The Australian Bioinformatics and Computational Biology Society Inc is the peak body and national scientific and professional society for bioinformatics and computational biology in Australia.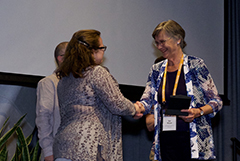 ABACBS has a system of awards spanning all career stages, as well as recognising professional bioinformaticians and open science
The Joint GIW/ABACBS-2019 National Conference will be in Sydney...

Find out more and join...
COMBINE is thesub-committee of ABACBS and the ISCB Regional Student Group
Australian computational biology and bioinformatics job announcements
The vision, aims and history of ABACBS...